Whitney Dean

© BBC/Kieron McCarron
Portrayed by
Shona McGarty
Introduced by
Diederick Santer
Spin-off Appearances
Last Tango in Walford (2010)
EastEnders: E20 (2010)
"East Street" (2010)
Gender
Female
First Appearance
1 April 2008
Duration
2008–
Other names
Whitney Carter
Address
25 Albert Square
Status
Alive
Age
26
Date of Birth
8th December 1992
Occupation
Taxicab controller
Market trader
Teaching assistant
Waitress
Barmaid
Classification
Present; regular
Whitney Dean (previously Carter) is the adoptive/legal daughter of Bianca Jackson and is described as both an equal to, and younger version of Bianca, much like Bianca's other daughter Tiffany and is the oldest of Bianca's four children. Whitney hasn't made the best life choices, much like her older brother Ryan, however she currently works at The Queen Vic Pub.
Storylines
Born on 8th December 1992, Whitney first appears in EastEnders when she and her family; mother figure Bianca Jackson, half-sister Tiffany Dean, and Bianca's sons Liam and Morgan are evicted by their landlord for failure to pay rent. They sleep that night in a bus shelter, and are taken into care the next day after Bianca is arrested for assaulting a police officer. The children return to Bianca a week later, moving into Pat Evans' home, although Whitney is initially angry with Bianca for letting them down.
Over the next few months, Bianca becomes the beneficiary of a mystery "guardian angel", who is revealed to be Whitney. Whitney tells Bianca she found a winning lottery ticket lost by Dawn Swann's family and cashed it, but didn't tell Bianca as she knew that she would spend it. Bianca lives up to Whitney's fears by constantly shopping with their windfall, but after arguing with Whitney, reluctantly agrees to deposit it. However, knowing Bianca won't bank it after hearing about the holiday she has booked, Whitney hides some of the money in a box to be used in emergencies only.
It is revealed that Bianca met her imprisoned boyfriend Tony King in 2005, when she was expecting her youngest child, Morgan. Whitney warmed up to him when he helped her remove a ribbon, which was stuck in her hair. From then on, Tony groomed Whitney and they started a sexual relationship behind Bianca's back. Tony went to prison in 2007 after assaulting a boy who apparently harassed Whitney and was released on 12 September 2008. Upon returning home, he makes it clear to Whitney that they will resume their sexual relationship. Whitney in turn reveals that she has kept some of the lottery winnings so she and Tony can run away together. Tony, however, harangued by Bianca about the prospect of marriage, gives her Whitney's money to use as a down-payment on a flat.
When Whitney and class-mate Peter Beale are cast in the lead roles of the school play Romeo and Juliet, Tony is jealous of them rehearsing in private and punches Peter. Whitney convinces Peter and his twin sister Lucy Beale not to report the attack to the police, but Tony blames her for the incident and ends their affair. Whitney is devastated when Tony accepts Bianca's marriage proposal, locking herself in her bedroom. Not knowing what to do, Bianca accepts Dr. Poppy Merritt's help and she refers Whitney to a psychiatrist. Bianca takes her away on holiday, attempting to mend their relationship. When they return on Halloween, Tony and Whitney share a passionate kiss, and Tony informs Whitney that their relationship is back on, however upon her kiss to Tony's cheek, he failed to remove the lipstick which angered Bianca and Tony blamed the lipstick on Ronnie. Which led to Bianca causing a scene, and after Ronnie got better of the verbals, Bianca attacked Ronnie from behind and went to dunk the blonde into a bucket of squash and apples, however after Bianca got a little cocky, her stun backfired very quickly and Ronnie reversed this and dunked her instead, which left her humiliated and more confused.
Whitney becomes jealous when Tony begins showing an interest in Lauren Branning. She is relieved as her sixteenth birthday approaches and buys tickets for her and Tony's trip abroad. Tony, however, has lost interest in Whitney, and hides her passport but it is found and returned to her. On the day she turns sixteen, Whitney confesses everything to Bianca. Horrified, Bianca calls the police, and Tony is arrested. Whitney initially refuses to discuss her and Tony's relationship with the police, believing that they were in love but Bianca makes her realise that Tony abused her and raped her for years. Tony is released on bail and returns to Pat's house, hoping to convince Whitney to lie to the police for him, making Whitney realise Bianca is right, and agrees to make a statement against him.
Whitney decides to contact her biological mother but discovers that she has the wrong address. Bianca claims not to have it but Janine Butcher steals it from Bianca's address book and gives it to Whitney. Whitney visits Debra and tries to discuss the past but Debra isn't interested and rejects her. She meets Todd Taylor and agrees to go on a date with him. It goes well until he asks about past relationships. She runs away and is found by Bianca's ex-husband, Ricky, being drunk. She tries to kiss him but he pushes her away, saying that Whitney is like a daughter to him.
For seven years of their life, Whitney and Tiffany thought they were sisters and Tiffany was brought up as Nathan Dean's daughter as Bianca was positive that he was her father. Bianca adopted Whitney from a young age and she looked at Bianca as a mother figure as her biological mother Debra walked out on her when she was a toddler, leaving Nathan to look after Whitney, then Nathan met Bianca and later Tiffany was conceived. However, Bianca had a one night stand with Liam's father, Ricky, but the pair never put two and two together until seven years later when Ricky and Bianca reunited and she told him that there's a chance he could be Tiffany's father and this was proved when a paternity test showed that Tiff was not in fact Nathan's daughter but she was Ricky's. When the truth was revealed, Whitney was devastated and it is discovered that Whitney has been shoplifting, prior to this. Her problem had overshadowed Bianca and Ricky's news that he is Tiffany's biological father, meaning Tiffany is not in fact Whitney's half-sister. However, they catch her in the act after returning the goods she stole and she agrees to get professional counselling.
Todd returns and Whitney eventually relaxes in his company. One of Tiffany's caterpillars disappears and crawls up Todd's shirt. Todd takes it off in a panic, and Ricky throws him out, thinking they were undressing for sex. Whitney apologises on Ricky's behalf and they agree to be friends. Whitney also agrees to another date. They talk in his car until he goes to get some chips but forgets his wallet. Whitney finds it and, looking inside, sees a condom. Whitney runs off, thinking Todd wanted to have sex with her. Todd is later scared off by a man who is interested in Whitney, and after he saves her and several other locals from a hostage situation, Whitney calls him a hero (he turns out to be her older half-brother). She fails to attend her GCSE exams and argues with Bianca. Debra turns up unexpectedly, claiming she is homeless, but reveals she is planning to move to Greece when she has enough money and says Whitney can come with her. Whitney accepts, but later realises that Debra is using her, and she is only there to hide from someone. After being tracked down, Debra leaves. On Bianca's birthday, Stacey Slater accuses Whitney of having an affair with Bianca's uncle, Max Branning, when he was really helping her bake a cake. Whitney is then upset when Bianca confronts her about this and immediately packs her things. Her mother, Debra, suddenly returns - banging on the front door, panicking. When Whitney opens it, she sees Debra scared with cuts and bruises on her face, saying that someone is after her. This person is the same man Whitney had called a hero, who tells Whitney he is her half brother, Ryan Malloy. He has stabbed someone and Debra is keeping the knife for him. Whitney hides the knife and later disposes of it in a canal. Whitney and Ryan later steal Max's car for a joyride and return it, not realising that she has left her earring in it. When Lauren discovers it, she knows it belongs to someone else and suspects Max is having another affair. Lauren tells her mother, Tanya Branning, but Whitney confesses the truth. She and Lauren watch movies at Janine's flat, and get drunk.
Whitney learns of Sam Mitchell's return, now engaged to Ricky, much to Bianca and Whitney's displeasure. Someone calls the police and Sam is arrested for perverting the course of justice. Whitney tells Ricky she called the police, and Sam's mother Peggy Mitchell is furious to hear about this, and confronts Whitney, who runs off in tears. However, Ricky discovers that it was actually Bianca who called the police.
In November 2009, Whitney decided to design her own t-shirts as suggested by her family and after she obtained start-up finance from her adoptive great-uncle Jack Branning, an order for 500 units came in. It turned out that it was Ricky who had meant to order five but messed up. She was hurt when she discovered the news but eventually sold the t-shirts with the help of Bianca, Ricky, Ryan, Janine and Sam.
Whitney begins to feel vulnerable when Tony's trial is about to commence. She asks Bianca about the trial and asks her if she will see Tony. Thinking that Whitney is worried, Bianca states that they will see Tony, but he will be in a separate and different room location. Whitney is disappointed to hear this and she desperately tries to contact him so she decides to secretly write him a letter. She also tries to visit him in prison but is refused. She is upset and gets angry when Ryan does not understand how she feels. Ryan tells Ricky and Bianca that Whitney was upset and does not think she is coping. He tells them that Whitney is trying to visit Tony. Bianca confronts Whitney who says Tony needs her. She storms out and a man named Mark gives Whitney a mobile phone from Tony. She ignores a call from Tony and he leaves her a voicemail begging her to call him back, saying he loves her. Bianca says she will never let Tony near Whitney again. Whitney's birthday is approaching and Tiffany hides a birthday card in Whitney's drawer where the phone is hidden. She accidentally spills tea on it, breaking it. Whitney shouts at her and Ricky tells her not to, saying that she can use another phone. She tells Ricky to leave her and Tiffany alone as they are nothing to do with him, but Ricky reveals that Tiffany is his daughter. Whitney runs off and gets drunk. Ryan finds her and promises not to tell anyone where she is, telling Bianca they are not in Walford. Whitney says she wants her mum and Ryan goes to find her but goes to Tony's trial instead. She agrees to come home for Tiffany but is upset that Tiffany does not yet know her true paternity.
At the trial, Whitney's witness statement is played in court and when she says she was 12 years old when their relationship started, Ryan leaves in disgust. He storms back into the court calling Tony a monster. The judge stops the tape and Whitney, who is watching from another room, asks what is going on. After Ryan talks to Whitney, calling him sick and saying he will get out of prison when he is an old man, she runs into the court shouting that he is not an animal and they love each other. She says she will refuse to testify saying her witness statement was lies and she was forced to say it. Whitney's barrister, Vivien Easley QC gives Bianca five minutes to talk Whitney round. Tony's barrister, Mrs Taylor, cross examines Whitney, trying to imply that she pursued him for several years, saying she refused to take 'no' for an answer and lied about the accusations. Tony shouts out that he is innocent but Whitney says she trusted him and he abused her. After leaving the courtroom, Whitney hands over the mobile phone to her barrister with Tony's messages on it. Back at home Whitney says she is still Tiffany's sister and they hug.
Todd goes to see Whitney to give her a Christmas card. He says he hopes they are still friends and she lets him in. He cooks mince pies and says he wants to be a mechanic. She realises that Ricky has put him up to spending time with her to take her mind off the trial. Whitney and her family later go to the court to hear the verdict, though Whitney is not allowed inside. Bianca tells her Tony has been sentenced to 13 years' custody. Whitney starts to ignore Todd's calls and is upset when Ricky invites him to his and Bianca's engagement party. However, at the party, she apologises to Todd and they kiss. Lucy invites Todd to a party and he brings Whitney. Lucy makes advances on Todd which upsets Whitney, so she takes him to a bedroom where she finds a condom that fell out of Todd's pocket. They kiss and decide to wait until the time is right before having sex.
Bianca's half-brother Billie Jackson arrives back in Walford for Bianca's wedding and Whitney enjoys getting to know him. She shows interest in his moped so he takes her for a ride on it. Todd sees them, and Whitney later breaks up with him. Whitney and Billie nearly kiss but they are interrupted by Bianca. Whitney is upset when Billie's mother Carol Jackson arrives to take Billie home, but the next day he attends the wedding after Carol and Bianca reconcile, deciding to stay following the death of Billie and Bianca's cousin Bradley Branning. Billie takes Whitney to his flat in Balham to collect his things and they bump into a girl named Kylie, and he introduces Whitney to her as a member of his family. The next day Whitney thinks Billie is ashamed of her, and he insists that Kylie is just a friend. Later, he graffitis a wall with Whitney's name as a gesture. They kiss and she tells him she wants to go all the way. The next day Bianca catches them in bed and demands they get dressed, but after they explain they are not doing anything wrong, she tells them to be careful. When Whitney realises Billie lied about his college commitments, they argue and Billie rides off on his moped. Whitney goes to his council estate to find him but meets Kylie. They argue and Whitney calls her a skank, so Kylie chases after her and she is cornered by her gang and attacked. They tell her they want their gun back from Billie, and when Whitney goes back to Walford she tells him to get rid of it. They dispose of it in a bin but later on after Billie goes back to Balham, he still has the gun in his bag.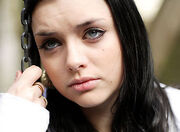 Kylie and her friend Connor track Billie and Whitney down in Walford, where Kylie tells Whitney she will look after her. At a grime night at The Queen Victoria, Kylie and Connor get Whitney drunk, which gets them thrown out. Billie is angry with his friends for getting her drunk. Although upset with Whitney's behaviour, Bianca says she is acting just how she did at the same age. Whitney asks Billie to choose between her and his former gang, and when Billie chooses her, gang member Kylie makes threats to Whitney, and then takes revenge by attempting to shoot Billie, but hits Jack instead. Jack is hospitalised with major injuries, and Whitney struggles to help Billie deal with his guilt and subsequent anger and rejection from the Branning and Jackson families. She is further deeply upset when Billie decides to join the army for his own punishment of the recent events and in an attempt to make his uncle Jack proud. When Billie is accepted into the army, Whitney decides to make the most of their two weeks together, so books a holiday to Alton Towers, however, Billie is unimpressed. She enlists Leon Small's help in printing and selling her t-shirts and he kisses her, though she does not reciprocate. Billie finds out about the kiss but Whitney insists she did not cheat on him. She tries to talk to him but he refuses to accept her apology.
Whitney takes a trip to Hampshire with Lucy, Peter, Leon, Zsa Zsa Carter and Fatboy where she fears the house they are staying in is haunted after Fatboy tells a story and she finds an old doll. The next day Billie turns up and apologises, and they reunite. When celebrating Billie's birthday, Whitney kisses Peter and spends the night with him. She is then devastated to find out that Billie had died in his sleep. She finds a text on her phone from Billie claiming to still love her, thus adding to her guilt. She begins a relationship with Peter when he supports her through her grief. However, she soon falls for Billie's friend, Connor Stanley, and begins selling stolen jewellery for him. It is soon discovered that at this time Connor is sleeping with Billie's mother, Carol Jackson, and Whitney is left feeling betrayed by the family and is left sure she is just a burden. She moves in with Janine Butcher and gets a work trail at the Queen Vic, however, she is fired for stealing. Whitney soon attracts the attention of Rob Grayson. Rob gains Whitney's trust and when she falls out with her family she turns to him for help. She runs away to stay with Rob, throwing her phone away as she goes. Lauren and Janine try to find Whitney, however, when they do she refuses to go with them, claiming she and Rob are in love. But things are not all they seem at it unfolds that Rob is forcing Whitney to have sex with people to pay off his debts. When Whitney finally comes to terms with what is happening, after meeting another girl named Chloe, she is not allowed to leave and locked in a room. Whitney escapes by jumping out a window and flagging down a car for help.
The next month, she messages Lauren and meets her outside the police station, looking rough, as she has been arrested for shoplifting. Whitney opts to live with Dot Branning instead of her close family, but Dot convinces her to move back to Ricky's. When Ryan returns from a holiday, he learns of Whitney's ordeal and urges her to go to the police and get tested for sexually transmitted infections. She claims to be unready to go to the police but agrees to the test, which proves positive for chlamydia. When Whitney starts a relationship with a man named Lee, it is revealed that he is a friend of Rob's, and when Whitney agrees to meet Lee by text, Rob takes control of Lee's mobile phone. She allows Rob to take her home but then tells him to wait outside while she escapes through the back door and gets a lift to with friends. She leaves him a voicemail message not knowing that he's following her. He finds her in her hotel room and professes his love for her, but when Fatboy comes in, Rob attacks him, so Whitney tells him to leave. Fatboy calls Ryan, who comes to Southend looking for Rob. When he finds him, they fight and fall over the edge of the pier. The next day, a body is recovered from the sea, and is revealed to be Rob who has died. Whitney thinks Ryan may also be dead until he appears. She tells him she has told the police everything about Rob, including Ryan's fight with him, and Ryan tells Whitney he has to leave. They say an emotional farewell.
Whitney takes an interest in Tyler Moon but refuses to date him. Whitney applies for a new work experience at the local nursery which she later gets. When Michael Moon tells his brother, Tyler, about Whitney's recent ordeal he rejects her but later gives her his special Moon pendant to make up for it. Whitney agrees to go on a date with Tyler and they agree to have sex but Whitney is unsure as she remembers her past and runs out, telling Tyler she never wants to see him again. He later tells Fatboy she needs a shrink which Whitney overhears. She runs out and kisses Fatboy and starts a relationship with him. He publicly declares his love for her, but when he is unable to give her a driving lesson, Lucy suggests that Tyler does it, because she knows that Tyler likes Whitney. Whitney starts to feel smothered by Fatboy's affections. Lucy teases Tyler by telling him that Fatboy plans to publicly propose to Whitney, so Tyler tells Whitney he likes her but Whitney says it is too late. Tyler then surprises Whitney by kissing her. Whitney, feeling guilty, refuses to go on holiday with Fatboy, and tells him to kiss her. He does, but she says it is like kissing her best friend. She then admits she wants Tyler, leaving Fatboy heartbroken. Whitney then goes to see Tyler but finds him kissing Lucy. She then tells Tyler to leave her alone. However, Tyler later tells Whitney that he cannot, as he loves her. Whitney admits to feeling the same way, and they begin a relationship.
Whitney believes she is pregnant, and when she tells Tyler, he seems reluctant to take on a child. However he comes round to the idea, but Whitney discovers she is not pregnant after all. The rest of Whitney's family move to Suffolk to be near Bianca, who has been sent to prison in Suffolk. However, Whitney stays and looks after the house, along with Bianca's uncle Derek Branning. Soon after, Tyler moves in. Whitney is angry when Joey Branning kisses her. Several months later, after Bianca and the rest of the family move back, Whitney and Tyler plan to get their own home. Whitney tells Tyler about the kiss with Joey, so he breaks up with her. However, he regrets it and proposes to Whitney; she accepts, Bianca disapproves of the engagement. When Lauren kisses Tyler to make her ex-boyfriend Joey jealous, Whitney ends her friendship with Lauren. After several weeks Lauren and Whitney make up. She receives a letter from a stranger, the letter is from Tony asking Whitney to come and see him in prison. Whitney then goes to the prison to visit Tony but is told that he has committed suicide. Trying to come to terms from Tony's death, she goes out for lunch with Tyler at Scarlett's, but they later argue which leads to Whitney ending their engagement and storming out. She then goes for a drink and Joey tries to comfort her which leads them to start flirting with one another. They then share a kiss and go back to Joey's house to have sex. She tells Tyler, and they both realise that they will not work out, and Tyler leaves Walford.
Whitney gets a job as a teaching assistant at Walford Primary School. During one breaktime, she warns Denny Rickman not to run in the playground. He ignores her and falls over, grazing his arm. Whitney does not react in the professional manner she is supposed to, causing Denny's injury to be ignored. When Sharon questions Denny about his injury he says Whitney assaulted him. Sharon complains and Whitney is suspended, but appeals for her job and is allowed to keep it. Whitney later sets her sights on newcomer Johnny Carter, unaware that he is gay. Johnny's parents, Mick and Linda Carter, hope that Johnny and Whitney will become an item, but his sister Nancy reveals to them that he is gay. A few weeks later, Johnny comes out to Whitney, which hurts her as she feels that Johnny has been using her. They later become good friends and Whitney forgives Johnny.
When Johnny's elder brother Lee returns from serving in Afghanistan, Whitney takes an instant liking to him and they share a kiss. She discovers that Lee had sex with Lucy, which upsets her greatly and she spams Lucy's Facebook page with horrible comments. The next day, Lucy is found dead. At her funeral, Tamwar Masood discovers a condolences card with 'Rot in Hell' written on it, and realises the handwriting matches Whitney's. When he confronts her, she tells him that Lucy was sending her abusive texts about her looks, and that she completely despised her. Feeling sorry for Whitney, Tamwar rips up the card, but it is later recovered by his suspicious sister, Shabnam Masood.
Upon Lee's return from the army, Whitney gives the relationship another chance. She struggles with the prospect of making their romance sexual, but eventually agrees to when he talks about his feelings for her. Ryan's young daughter Lily comes to live in Walford when her mother Stacey Slater is sent to prison. Whitney begins to babysit her and is shocked when Ryan contacts her, under the alias of 'Simon Parker' after placing a photo of herself and Lily online. After speaking with Johnny and Lee, she decides to reply. Stacey is granted her appeal and freed but Whitney worries it will ruin her relationship with Lily. Whitney tells Lily about Ryan saying she could possibly meet him. When Stacey finds out, she argues with Whitney and says she will not be seeing Lily again. Whitney then messages Ryan saying she needs to see him urgently. Whitney then arranges to meet Ryan at the park. Stacey and Lily visit the park whilst Whitney is waiting for Ryan. Stacey apologises to Whitney and she accepts. Whitney thinks Ryan has stood her up, so leaves with Stacey and Lily. Ryan turns up late and hides on seeing Stacey, and remains unseen as a result.
Bianca tells Whitney she is moving to Milton Keynes, and wants her to move with her and the children. Although originally agreeing, Lee persuades her to stay and she moves into the pub with the Carters. Lee develops depression, and when Whitney finds out, she struggles to support him at his lowest points. At Mick's stag party before his wedding to Linda, Lee knocks himself unconscious and is carried upstairs by Mick and Whitney. Whitney confesses to Mick that she intends to break up with Lee after the wedding, unable to handle his depression. However, she is unaware that Lee has overheard her via the baby monitor. On the day of the wedding, Lee goes missing and Whitney and Mick find him drunk at the park. Lee tells Whitney that he blames himself for her wanting to break up with him, and she promises him that they will work things out. Whitney later thanks Mick for helping her with Lee, but accidentally kisses him on the lips in the process. While Mick and Linda are on their honeymoon, Whitney invites Ryan back to Walford to see Lily, but while at the pub, he steals the cash from the safe, causing Whitney and Nancy to fight, just as Mick and Linda walk in on them. The next morning, Whitney contacts Ryan and he asks to meet in the park. Mick accompanies Whitney and assures a scared Ryan that he can trust him. It then emerges that Whitney told Mick that Ryan killed Rob, so Whitney and Mick convince Ryan to return the money and hand himself to the police, and Whitney will back him up in the hope of him being charged with manslaughter instead of murder, to which Ryan agrees. Whitney shares an emotional goodbye with Ryan as he heads into the police station. On the ride home from the police station, an upset Whitney tells Mick that she has feelings for him and kisses him again. Mick tells Linda what happened, so Linda tells her to stay away from Mick and not to give up on Lee. Whitney eventually tells Lee about the kiss causing Lee to have a one night stand with Lauren's younger sister Abi Branning. Whitney gives her relationship with Lee another go and is shocked when he proposes to her.
Lauren helps Abi gets her job back at The Queen Victoria and they celebrate with Whitney. Whitney then tells Abi that she should thank Lauren for getting her the job back and Abi isn't very happy that her sister had to ask to get her a job. Abi then becomes really drunk and Lauren catches her flirting with Whitney's boyfriend so imedietally grabs Abi. Lauren then tries to talk to Abi but she is clearly to drunk so Lauren grabs the wine glass out of Abi's hand and tells Whitney that she is taking Abi home. When Abi tells Lauren she can't tell her what to do, Lauren tells Abi to go and throw herself at Lee and that will give her another reason to mess up her job before its even started. Abi doesn't say anything and Lauren tells her to move because there going home. When they arrive home, Abi then falls in the door and she smashes their grandma Dot Branning's house phone. Lauren then helps Abi take her clothes off and Abi trips on the coffee table. Lauren then tells her that Lee loves Whitney and would never go anywhere near her and Abi drunkenly confesses to Lauren that she slept with Lee by saying "Well he already did, me and Lee had sex, so maybe they aint a perfect coupe after all". Lauren urges Abi to confess to Whitney as Abi gave Lee chlamydia which he gave to Whitney as Abi's boyfriend Ben Mitchell cheated on her numerous times and he gave it to Abi. But Abi doesn't want to tell Whitney and asked tells Lauren that shes her big sister and who she would choose over her or Whitney- Lauren obviesally chooses Abi. Babe Smith emotionally blackmails Abi, forcing her to resign. That same day, Lauren helps Whitney do a pregnancy test, which is positive.
In Mid-July 2016. Whitney found out she was expecting Lee's baby. She attempted to tell him by putting a bun in the oven however it was overcooked and was found by a confused Mick. Linda clocked in on what was going on and went to see Whitney. At first Lee didn't want the baby and prepared to tell Whitney that he wanted her to get an abortion. After having a heart-to-heart with Mick,Lee had second thoughts. A few days later both Whitney and Lee were told they had Chlamydia (due to Lee's drunken one night stand with Abi) A distraught Whitney blamed it on her past with Rob. In early August Abi admitted to sleeping with Lee. Whitney ended her relationship with Lee however she decided to give him another chance as she wanted a happy ever after. On the 16th of September 2016,The couple attended their first scan and bumped into Kim and Denise. The couple were told the baby will be due in March 2017. Lee brought her a pregnancy kick bracelet.However in October 2016 a heartbroken Lee and Whitney found out the baby had died. Whitney accepted the fact that the baby has gone,however after her operation she realises what's happened and breaks down in Lee's arms Wanting answers,Whitney confides in Lauren and thinks the chlamydia caused it. Whitney tells Lee it's nothing to worry about however Abi tells Lee she looked it up online and there was a possibility it did. Lee confronts Whitney and the pair agree to never keep secrets from each other. Before the wedding Whitney tells Lee she wants another baby. In December Whitney thinks she is pregnant but is left disappointed when she isn't.
In November 2017, her fiance, Woody Woodward, is offered a job at a bar in Spain and takes it. He worries about breaking the news to Whitney, and initially they argue, however she eventually agrees. On the day they are due to leave, there is a bump in their relationship, however Mick and Linda Carter's marriage counselling appears to resolve their differences. He leaves, telling Whitney to meet him at Walford East Station at half three. When she arrives, she cannot find him, so leaves him a voicemail, but soon notices a note on the window of the station. It says that Whitney would be better in Walford and without him, and that he has left without her. Whitney is devastated.
In January 2018, Bex Fowler answers the door to her cousin Tiffany Butcher who has ran away from her home at Milton Keenes. The next day, Whitney discovers a pregnancy test in the bin belonging to Tiffany. When Whitney confronts Tiffany about it, Tiffany tells her it the test is Bex's but once Whitney tells Tiffany that she's going to tell Bex's dad Martin Fowler, Tiff tells Whitney it's hers and it's positive. Desperately wanting to stay in Walford she acts like her mother Bianca on the phone and Martin falls for it, immediately Whitney finds out it wasn't Bianca on the phone she exposes Tiffany and is ready to throw her out because of her lying. Tiffany then lies and says she's in Walford because her mother wanted to kill her self. As Whitney wants to find out why Tiffany has come to Walford, she asks Bex to take her shopping- much to Tiffany's delight. Bex and Tiffany begin to argue when Tiffany wants to get a taxi into town but Bex tells Tiffany that she has to legs so she should use them. Tiffany replies "you are soooo annoying" and Bex tells her to hurry up. Whitney does some more digging and rings step brother TJ Spraggan to come to Walford so she can ask him what's going on. TJ tells Whitney that Bianca is on a cruise with her partner Terry Spraggan, his daughter Rosie, Bianca's son Morgan and TJ's daughter Beth but Tiffany refused to go. Whitney waits for Tiffany to come back from shopping so TJ can take her home. However, as soon as Tiffany comes home she recognises TJ's coat and runs away. Everyone desperately looks for Tiffany and Whitney goes out of her mind with worry. Bex tries to phone her and Whitney askes if anyone had seen her. Tiffany actually went to see some boys were way older. The boys ask Tiffany her age and she lies saying she's 17 when she is actually only 14-years-old. When Tiffany runs away from the boys, they try to chase her and hold her up against a car but Whitney, Martin and Bex arrive just in time and Whitney punches one of the boys and Tiffany hugs her. When they get home, Tiffany explains that she was only aloud not to go on the cuise if TJ looked after her but he didn't and it took him three days to realize she was even missing and when TJ eventually did coe back home he started having a "threesome" in the living room. Whitney screams at TJ telling him that Tiffany is 14 years old and throws jam in his face, leaving Bex and Tiffany speechless.
Tiffany meets a 19 year old man called Jagger Rawley, whom she fancies. It turns out he likes her to and takes her on a date to Ian Beale's restaurant. Keegan works there and isn't very happy about seeing Tiffany with Jagger. Whitney spots them talking in the street but Tiffany tells her its just a boy from her school - unknown to Whitney that Jagger is 19 and Tiffany has been bunking off school to see him. The next day, Tiffany meets Jagger in the park with a couple of his friends. He encourages her to drink and sticks up for her when two girls start to laugh at her. Whitney attempts to call Tiffany but she declines the call - knowing that she is to drunk to talk to Whitney. Jagger offers to walk Tiffany back home but she says she is fine. After getting back home, Whitney notices that Tiffany seems drunk and tells her to eat. A week later, Jagger invites Tiffany to a party, which she attends. She comes back early hours in the morning and Whitney finds her trying to sneak upstairs. They have a heart to heart and Tiffany tells Whitney about Jagger and his real age but Whitney forbids her from seeing him. Keanu then spots Tiffany with Jagger and tells Bernadette that he is a drug dealer. When Bernadette confronts Jagger about this, he posts a firework through her letterbox. Jagger then tells Tiffany the truth and she agrees to hide drugs for him. She does a few jobs for him as well but the relationship ends when it all gets a bit to much for tiffany.
Weeks later, Tiffany spots Jagger giving Keegan some drugs. She confronts Keegan about this and he gives her the drugs to bin. Tiffany tells Jagger she knows what he gave Keegan and says he wants it back. Tiffany then explains that she binned the drugs and Jagger tells her he wants £250 of her or the drugs. They negotiate and she agrees to deliver some drugs for him. A girl sticks up for tiffany when Jagger starts threatening her. The pair become friends and go shopping together. The next day Tiffany looks all over for paracetamol and tells Whitney he has a period from hell, but Whitney just tells her to go to school. She meets up with Jagger and the gang and hides them in Ted Murray's flat, after she borrows his keys from Bernadette who is looking after the flat while Ted is on holiday. After everyone goes home, Jagger tells Tiffany to go to a party with them but she refuses and calls her Mum, however Bianca asks Tiffany to call tomorrow. Tiffany gets upset and goes to the party after all.
See also
Gallery
Community content is available under
CC-BY-SA
unless otherwise noted.