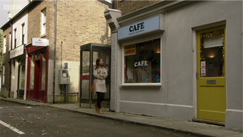 Victoria Road is a street in Walford which runs behind Albert Square. The postal code for Victoria Road is E20 5RT.
History
1985-
Only two house have been mentioned in the show that reside on this road 55 Victoria Road and 93 Victoria Road. The rest of the building appear to be commercial buildings including Café, Marshall & Hammond and Dexter roger's & associates.
Other services Victoria Road offers is a telephone box and a bus stop.
Gallery
Victoria Road
Other uses
EastEnders  A-Z DVD (2005)
Before the current Victoria Road was established showing shops, it was previously re-dressed to depectict other streets. On the EastEnders  A-Z DVD (2005), the exact location is not given but in the last picture you can see the fence and phone box. The Bright blue door in the 4th picture must be part of the Café, on Victoria Road . 
E20 (2010)
In E20 Series 2 its re-dressed as Graham Street where Naz lives, which is located outside Walford.
Community content is available under
CC-BY-SA
unless otherwise noted.