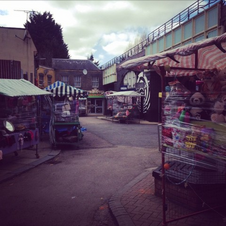 Turpin Road is a street in Walford which is accessed from Bridge Street and at the other end, George Street. The street has several businesses down it and a War Memorial. Another viaduct runs off the Bridge Street viaduct over Turpin Road.
History
Turpin Road was built in the 1800s as East London got bigger and bigger, as did Walford. The road was named after Dick Turpin . Turpin road houses many shops and a street market.
1985-
Turpin Road was first seen in 1985 in episode 11 when Tony Carpenter, Kelvin Carpenter, Ali Osman, Saeed Jeffrey, Naima Jeffrey and Lofty Holloway rescued Mark Fowler from Nick Cotton . It was mentioned in 1986 a few times. In 1987, Turpin Road became more prominent when a derelict pub was bought and converted into a wine bar called The Dagmar. By this time Turpin Road had a Chinese takeaway and a fish and chip shop down it.
Gallery
Community content is available under
CC-BY-SA
unless otherwise noted.