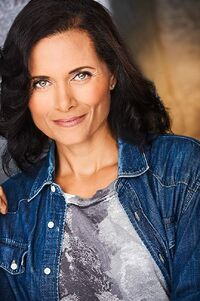 Troy Titus-Adams (born Troy Joanna D. Adams in October 1969 in Hammersmith, London) is a British actress and producer who appeared as Nina Harris in EastEnders from January 1999 to June 2000.
Troy has a string full of West End productions and television credits behind her, making her television debut in 1986 in Knights & Emeralds. She began tap dancing at the age of three. Troy attended Italia Conti's, a drama school Wendy Richard also attended. In 1998 she auditioned for the part of Nina in EastEnders, and apart from the fact that she has a very successful career, the role of Nina is her most famous role to date.
Since leaving the BBC soap, Troy has only appeared in one other soap which was Family Affairs, but she has been swamped doing films and producing them for her own company Heavy Soul Ltd.
Her last known contribution to television was in 2015 in The Grid. She has produced Boulevard Zen and most recently A Women's World in 2017. She has also appeared as herself on It Shouldn't Happen on a TV Soap, Blankety Blank and GMTV.
Community content is available under
CC-BY-SA
unless otherwise noted.