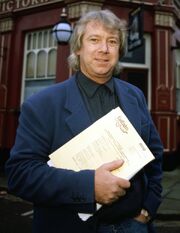 Tony McHale (born Anthony John Wright in September 1950 in Yorkshire) is one of EastEnders most profilic writers and storyliners and was responsible for the success of the show throughout the 1990s having created 163 scripts between May 1985 and February 1999 and created the famous Jackson family which are still ingraved into the show today. He is also responsible for directing 8 episodes.
He has immense experience in producing and acting having served as the executive producer of Holby City from 2006 to 2010 and having roles in popular television shows such as Coronation Street, Touch and Go and Beadle's About.
In 1998 he created the BBC medical drama Holby City, which is a spin-off from the established drama Casualty. Over the last decade, McHale has been involved in the development and production of dramas in India, Dubai, New Zealand and South Africa, while still developing ideas for British TV. He has also lectured at many institutions on TV writing, directing and producing.
Episodes written by Tony McHale
1985 (5 episodes)
1986 (10 episodes)
1987 (11 episodes)
1988 (12 episodes)
1989 (17 episodes)
1990 (16 episodes)
1991 (15 episodes)
1992 (16 episodes)
1993 (14 episodes)
1994 (5 episodes)
1995 (8 episodes)
1996 (4 episodes)
1997 (17 episodes)
1998 (11 episodes)
1999 (2 episodes)
Episodes directed by Tony McHale
1992 (2 episodes)
1993 (4 episodes)
1994 (2 episodes)
Community content is available under
CC-BY-SA
unless otherwise noted.