We're Getting Mutants in the MCU - The Loop
Play Sound
The Queen Victoria Public House, simply known as the Queen Victoria, Queen Vic The Vic or The Vicky by the locals, is the local pub in Albert Square which has been the centre of drama since the very first episode was broadcast It is the only pub for the next 5 miles. The Queen Vic is currently owned (for the second time) by Mick Carter and Linda Carter, after buying it from Sharon Watts, who had been given the pub by Ian Beale.

During the first few months of the show, the Queen Vic had a partition wall which separated it into two sections. The smaller section (the Public Bar) housed a dart board and fruit machines with very little seating. It was popular with people who were calling in quickly. The larger section (the Saloon Bar) had more seating, including tables and was used when people wanted to stay longer. Den Watts, who was the landlord at the time, got permission from the brewery that owned The Queen Vic to remove the partition in October 1985, and hired Tony Carpenter to do the job. Den hoped that removing the wall and opening up the bar would create a more modern environment and appeal to a younger, hipper crowd and as if by magic, the first character we see drinking in the modernised Vic is young, hip Simon Wicks on his first day in the Square.
History
The Queen Victoria was built in the 1860s and, as was typical of the time, originally had two bars: the public and the saloon. According to Sharon's account given in February 2020, the first publicans were Mr and Mrs Bagstock and that Mr Bagstock allegedly drowned his wife in the bath. Queen Victoria visited the pub but not specific date was given but would have been between 1860 and 1901.
Den and Angie Watts took control of the Vic in 1975, with plans to make their fortune and buy a "big house in Reigate". By 1985, the pub was still something of a "boozer" so publican Den Watts decided to dismantle the partitions between the two bars in an act of modernisation, so it became one. During the early years of EastEnders the pub was owned by the brewery Luxford & Copley who then rented it out to the Watts family.
In 1986 after Den divorced Angie on Christmas Day, Den's mistress Jan becomes the landlady for a few months, before Den splits up with her. Meanwhile Angie begins running the new rival pub in the Square named ' The Dagmar', owned by James Willmott-Brown. On New Year's Eve 1987, at the party in The Vic, Angie demands that she runs The Vic again with Den. In 1988, Angie leaves The Vic and Walford for Spain after telling Den that they will both run a new pub together. Den, falling for her plan, signs the lease of the pub over to Frank Butcher and his barmaid Pat Wicks. After Den finds out Angie's plan, it is to late for him to keep The Vic. Den goes on to run Strokes wine bar, which is a front for a criminal gang called 'The Firm". His involvement with the gang led to his (fake) death in 1989.
Pat and Frank gave up The Vic in 1990 to run the B&B. This was because Janine was young and Frank and Pat found it hard to look after Janine and run the pub. Den and Angie's daughter Sharon Watts and Simon Wicks managed the pub until the brewery found a new landlord. The brewery found Eddie Royle, who was an ex-policeman. He later invited his Irish fiancee Eibhlin O'Donnell to live with him after they were engaged in April 1991. However, this was short-lived as Eddie was stabbed in the Albert Square Gardens by Nick Cotton.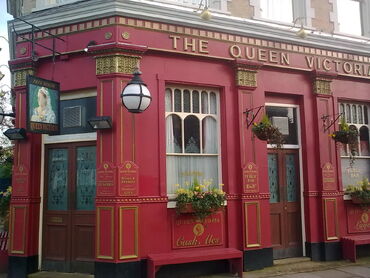 After Eddie's death, the brewery decide to sell The Vic off. Sharon Watts (Den and Angie's daughter) and partner Grant Mitchell and brother Phil Mitchell, buy the pub off the Brewery. Sharon's name is put above the door, due to Phil and Grant having criminal records. In 1993, Phil decides to sell his share of The Vic to Sharon and Grant, who are married by this time.
In 1994, after Sharon's affair with Phil Mitchell, Grant forces Sharon out of The Vic on Christmas Day. Sharon returns in 1995 and even though it breaks her heart she signs the deeds to The Queen Vic over to Peggy Mitchell, making her the new landlady.
Peggy and Grant own the Vic until 1999, when Peggy and Frank Butcher get together and marry. Grant decides to give his 50% share of The Vic to his brother Phil, who sells his share to Dan Sullivan for £5.00. With Dan as the new landlord he starts making Peggy and Frank's lives hell until June 2000 when in a game of cards Phil tricks Dan in to signing an amendment to the deeds signing his share over to Peggy, making her the sole owner.
In November 2000, Peggy and Frank split up after his affair with his ex-wife, Pat Evans. Frank leaves the square shortly after leaving Peggy in serious debt with The Vic. This leads to Peggy selling The Vic unknowingly in 2001 to Sharon Watts. Sharon and her ex-brother-in-law Phil Mitchell get back together and Phil buys Steve Owen's share of The Vic. In 2002, after Angie Watts dies in Spain, Sharon decides to make a new start without The Vic, and sells her share to Phil. Sharon then buys the E20 nightclub from Beppe di Marco, and renames it Angie's Den, after both her parents.
Peggy once again becomes landlady of The Vic and runs the pub for Phil until she decides to leave and live with Grant, leaving Bar Manager Alfie Moon to run the pub. When Phil is accused of armed robbery in 2003, he signs all of his business interests over to his sister Sam Mitchell so she become power of attorney, including the pub. In 2004, Sam gets conned out of The Vic by ex-landlord Den Watts after his return from the dead.

On Christmas Eve 2004, Den Watts take over the pub, and the new Watts family, (Den, Sharon, Vicki, Dennis and Den's new wife, Chrissie) move in The Vic.
In February 2005, Den is killed by wife Chrissie Watts and is buried under concrete in the cellar of the pub. Chrissie forges Den's signature on The Vic's deed of transfer, and takes over control of The Vic. In July 2005, In November 2005 Chrissie try to do a runner out of Walford so sell the Queen Vic to Ian Beale but Chrissie is caught and exposed as Den's murderer, and is arrested. Before Chrissie Watts would speak to the police she wanted to talk to Sharon Watts where she told her she'd forged Den's signature on The Vic's deed of transfer, which meant as Den daughter she inherited the The Queen Vic. Sharon decides to sell the pub to the Phil Mitchell with Peggy once again for a third time becoming landlady.
In 2009, Christmas Eve, Peggy's estranged husband Archie Mitchell and his new fiancee Janine Butcher take over The Vic. Later on Christmas Day, Archie throws out Janine, and is later killed by Stacey Branning by the famous Queen Vic Bust. In Archie's will, he leaves The Vic to daughter Roxy Mitchell making her the newest landlady.
Roxy is in charge of The Vic until September 2010 when she admits that she can't run The Vic properly, so signs the pub back to Peggy, making her the owner of the Vic for the second time, and landlady for a fourth time.
In 2010, after Phil Mitchell sets fire to The Vic in a drug fuelled rage, Peggy heartbroken at the burnt out wreckage of her beloved pub and seeing the damage she has caused to Phil leaves and a short while later signs The Vic over to Phil. With no interest in running The Vic himself , Phil decides to rent The Vic to ex-bar manager Alfie Moon and his wife Kat making them the new landlord and landlady as well as the licensees.
After Kat has an affair with Derek Branning in 2012, she leaves the pub, leaving Alfie in charge until he gets with ex-landlady and Phil's cousin, Roxy, who becomes the new landlady until November 2013. Alfie and his new wife Roxy split up and Alfie goes back to ex-wife Kat. However, this is short-lived as Phil announces that he is selling the Vic.
On Christmas Day 2013, Phil is due to sell The Vic to ex-landlady Janine Butcher, temporarily. After she is arrested for murder, the pub is sold to Mick and Linda Carter, the brother and sister-in-law of Shirley Carter.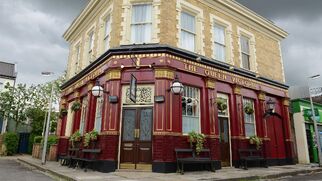 In 2014, when Mick and Linda discover a damp problem in the cellar, which Phil never told them about when he sold the pub, they resort to getting a loan from Mick's estranged grandfather, Stan, for the repairs to The Vic's cellar. Stan's condition for giving them the loan is that they have to sign a share of The Vic over to his daughter and Mick's mother, Shirley, making her co-landlady and co-licensee, along with Mick and Linda.
In 2017, Woody Woodward become the new bar manager. In April, Shirley and Linda Carter sold the freehold to the Queen Vic with out Mick's consent, to a business called Grafton Hill and, the company now own the building. Grafton Hill employs Fi Browning as Accountants Manager of the Pub. Fi Browning tell Shirley and Woody they have too many staff and need to sack two. Woody later sack Tracey and Sharon. In May 2017 Mick returns to the Square and Sacks Woody.
In 2020, Mick and Linda decide it is time to sell the pub due to Linda's alcoholism. So they put it up for sale and Phil and his wife, Sharon, are interested but they break up and Phil is determined to buy the Vic before Sharon does. It was revealed on the very last episode of EastEnders (until September 2020) that there was a mystery buyer and Phil comes round to have Mick and Linda sign them but Mick says someone already bought it, much to Phil's anger. When they walk out they see Phil's estranged wife, Sharon Watts, behind the bar with her best friend, Ian Beale, on the other side of the bar. Phil is furious and Sharon says her iconic line "Hello Phil. What can I get ya?". In 2021, after Sharon runs Ian out of Walford due to him killing Dennis Rickman Jr, Ian sells his share of the Vic to Sharon, meaning she now has full ownership. Soon after gaining full ownership Sharon sells the Vic back to Mick and Linda after Phil is blackmailed by Max Branning.
Staff
Current Employees
Previous Employees
Name
Position
Years
Lofty Holloway
Bartender
1985-1988
Arthur Fowler
Bartender
1986
Nina Harris
Bartender
1999-2000
Sam Mitchell
Bartender
1995-1996
1999-2000
2002-2005
Ricky Butcher
Bartender
?
Little Mo Mitchell
Bartender
2004-2006
Alfie Moon
Bartender/Owner
2002-2004

2010-13

Spencer Moon
Bartender
2002-2004
Jake Moon
Bartender
2005
Simon Wicks
Bartender
?
Melanie Healy
Bartender
2000-2001
Trevor Morgan
Bartender
2001
Donna Ludlow
Bartender
1987-1988
Kathy Beale
Bartender
????
Clyde Tavernier
Bartender
????
Michelle Fowler
Bartender
????
Cindy Beale
Bartender
1989-1990
Steve Elliot
Bartender
????
Tiffany Mitchell
Bartender
1995-1998
Debbie Wilkins
Bartender
????
Lorraine Wicks
Bartender
????
Jan Hammond
Bartender
1987
Binnie Roberts
Bartender
????
Josie McFarlane
Bartender
????
Mary Flaherty
Bartender
1998-1999
Shelley Lewis
Bartender
????
Dennis Rickman
Bartender
2005
Honey Mitchell
Bartender
2006-2007
Sean Slater
Bartender
2007-2008
Dawn Swann
Bartender
2006-2009
Danny Mitchell
Bartender
2010
Glenda Mitchell
Bartender
Roxy Mitchell

Bartender

2007-2009, 2010, 2012-2013
Ronnie Mitchell
Bartender
2007-2010
Chelsea Fox
Bartender
2010
Christian Clarke
Bartender
2008
2010
Pat Butcher
Bartender
1988-90, 2000, 2010
Billy Mitchell
Bartender
?
Peggy Mitchell
Bartender/Owner
1994-2001, 2002, 2005-09, 2010
Eddie Moon
Bartender
2011
Tyler Moon
Bartender
2011
Ryan Malloy
Bartender
2009-2011
Jane Beale

Chef

2010-2012
Jodie Gold
Bartender
2011
Kim Fox
Bartender
2011
Mo Harris
Bartender
2011-2013
Ray Dixon
Bartender,

Chef

2012-2013
Jean Slater
Bartender,

Events Manager

2010-13
Patrick Trueman

Bartender

Potman

2013

2017

Fatboy Chubb
Bartender
2012-2013
Kirsty Branning
Bartender
2013
Nancy Carter
Barmaid
2013-16, 2021-2022
Lee Carter
Bartender
2014-16
Babe Smith

Bartender

/Food Preperation
2014-17
Abi Branning
Cook
2015-2017
Sharon Mitchell
Landlady/FullTime

Barmaid

Part-Time Barmaid/Assistant Manager

1991-94
2001
2002-2005
2016-2017 2020-2021
Masood Ahmed
Barman
2018
Johnny Carter
Barman

2013-14
2016-2018

Stacey Fowler
Barmaid
2010, 2017-2018
Callum 'Halfway' Highway
Barman
2018-2019
Tina Carter
Barmaid
2014-2019
Residents
Current
Past
Name
Year(s)
Mr Bagstock
1860s
Mrs Bagstock
Ray Sewell
1930s-1940s
Lil Sewell
Gus Leonard
Before 1975
Flo Leonard
Alf Barrett
Polly Barrett
Sharon Watts
1975-1986, 1988, 1990-1994, 2001, 2002, 2004, 2005, 2020-2021
Angie Watts
1975-1988
Den Watts
1975-1988, 2004-2005
Simon Wicks
1985-1987
Brad Williams
1986
Jan Hammond
1987
Pat Butcher
1987-1990, 2010
Diane Butcher
1988-1990
Ricky Butcher
1988-1990
Mo Butcher
1988-1990
Frank Butcher
1988-1990, 1999-2000
Eddie Royle
1990-1991
Grant Mitchell
1991-1999, 2005, 2006
Phil Mitchell
1991-1996, 2001-2002, 2005-2010
Peggy Mitchell
1994-2002, 2005-2010
Sam Mitchell
1995-1996, 1999-2000, 2002, 2005, 2009, 2010
Tiffany Mitchell
1996-1998
Courtney Mitchell
1997-1999, 2006
Steve Owen
2001
Lisa Fowler
2002
Louise Mitchell
2002, 2010
Spencer Moon
2002-2004
Victoria Moon
Alfie Moon
2002-2004, 2010-2013
Vicki Fowler
2004
Zoe Slater
2004-2005
Chrissie Watts
Dennis Rickman
2004-2005, 2005
Ben Mitchell
2005-2007, 2008-2010
Carla Mitchell
2006
Honey Mitchell
2006-2007
Janet Mitchell
Billy Mitchell
2006-2010
Will Mitchell
2007
Stella Crawford
Ronnie Mitchell
2007-2010
Roxy Mitchell
2007-2010, 2013
Sean Slater
2008
Archie Mitchell
2008-2009
Jay Brown
2008-2010
Amy Mitchell
2008-2010, 2013
Danny Mitchell
2010
Glenda Mitchell
Tommy Moon
2010, 2011-2013
Kat Moon
2010-2012, 2013
Shenice Quinn
2011-2012
Mo Harris
Jean Slater
2011-2013
Tyler Moon
2013
Johnny Carter
2013-2014, 2016-2018
Linda Carter
2013-2016, 2017-2020, 2021
Stan Carter
2014-2015
Nancy Carter
2014-2016, 2021-2022
Lee Carter
2014-2016
Tina Carter
2014-2020
Elaine Peacock
2015
Whitney Carter
2015-2016, 2017
Babe Smith
2015-2017
Harry "Woody" Woodward
2017
Callum Highway
2018-2019, 2022
Ian Beale
2020-2021
Albie Watts
2020-2021
Annie Carter
2021
Tom Cotton
2022
Owner/

Licensee
Deaths &

Injuries
There has been 4 deaths within the premises. There has also been 3 deaths right outside of the premises.
Inside the Premises/ Accidents In The Building
Outside the Premises
See also
Gallery
Exterior
Interior Downstairs
Interior Upstairs
Queen Victoria Bust
Broken/repaired and later replaced.
Removed as Mitchells were taking over pub again.
Back to 3rd Bust (2012-Present)
Signs
Pub
Pillar
Licensee
Other
Miscellaneous
Football Team