Minute Mart


Information
Address
1 Bridge Street
(Formally 71 Bridge Street)
Used for
Newsagents, Grocers, Off Licence
Occupied by
Helen
Honey Mitchell
The Minute Mart is a little supermarket located at 1 Bridge Street where the market is it's also next door to The Queen Victoria Public House. The Minute Mart was originally called First 'Til Last and ran by Ashraf Karim and Sufia Karim. In 1998 Terry Raymond and Irene Raymond. Janine Butcher previously worked there until Ian Beale offered her better money to work for him. It was then sold and re-named the Minute Mart. Nita Mistry then worked in the Minute Mart until she left to live with with Robbie Jackson in India. After Nita left Mr. Hendry became the store manager and Gus Smith took over the till but was later dismissed for accidentally switching all the freezers off, which ruined the stock. Patrick Trueman and Yolande Trueman then owned and ran the shop. Yolande later left and Patrick ran it for a while before giving it to Denise Fox and Kim Fox-Hubbard.  
In March 2015 the The Minute Mart was due to close but 17 March 2015 Melissa Phillips from The Minute Mart head office came and told Shabnam Masood that The Minute Mart chain was bought out by a new parent company and would remain open.   
Staff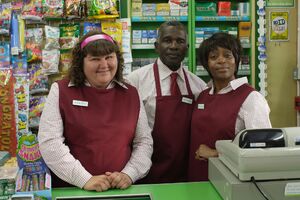 Current
Past
First til Last
Gallery
First Til last
Minute Mart