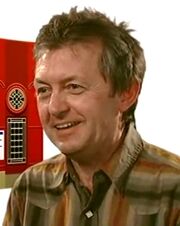 Mal Young (born 26th January 1957 in Liverpool) worked as a temporary producer on EastEnders throughout 1998 and 2002. He was also responsible for the executiving work on the spin-off videos The Mitchells - Naked Truths in 1998 and Slaters in Detention in 2003 as well as the spin-off episodes Return of Nick Cotton in 2000, Ricky & Bianca in 2002 and Pat and Mo in 2004.
He has had immense experience in producing and has worked on many popular television dramas over the years. He has also had some experience in writing and acting. Not only is he one of the core crew members of the BBC, he was also the BBC Controller of Drama Series' from 1997 to 2004.
One of his early producing workings was on the late favourite Channel 4 soap Brookside in 1995 in which he produced over thirty episodes. He then went on to become the executive producer of Family Affairs in 1997 before being responsible for the EastEnders spin-off video The Mitchells - Naked Truths. He has merely been responsible for nearly every spin-off commercial release of the BBC one soap apart from the 2010 spin-off DVD Last Tango in Walford when the show was celebrating its twenty-fifth anniversary.
From 1999 to 2005 he was the flagship crew member of medical drama series Holby City in which he served as the executive producer while also been responsible for Casualty and Doctors. He has not long ago been responsible for the television series' Desperate Scousewives and The Young and the Restless.
During his intermittently reign on EastEnders he worked very closely with the executive producer's Matthew Robinson and John Yorke, and one significant storyline was the Matthew Rose and Steve Owen storyline more specifically the two-hander they shared in early 2000 in which Mal accused to be very strong and violent in which he was almost responsible for re-shooting the whole thing. However, the episode ended up going out on air with a few scenes edited.
Community content is available under
CC-BY-SA
unless otherwise noted.