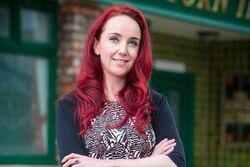 Kate Oates is a television producer, who became EastEnders' new executive producer in January 2019, taking over from John Yorke with her first credited episode being Episode 5872 (21 February 2019). She is now senior executive producer with Jon Sen being executive producer.
Born in Nottingham, she attended Warwick University, where she graduated with an English and Theatre degree. Her first job was as a researcher for Germaine Greer, and she then worked as the script editor on the revamped Crossroads until 2003. She then produced The Archers for seven years until 2010. Her next role was a story editor on Emmerdale, then producer for the same programme for four years, with a short period in-between (from 2012 to 2013) as assistant producer of Coronation Street before becoming the fully fledged producer of the programme in April 2016 and remaining in the position until December 2018.
Community content is available under
CC-BY-SA
unless otherwise noted.