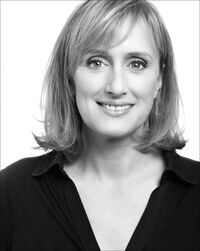 Jenna Russell (born 5 October 1967 in Paddington) is an English actress and singer who appeared as Michelle Fowler in EastEnders from December 2016 to April 2018.
She is best known for her work on Mortdecai in 2015, On the Up from 1990 to 1992 and Doctor Who in 2005. She began her career with the RSC playing Fantine in Les Miserables. After appearing in three shows at The Bridewell Theatre (On A Clear Day, Hello Again and Cutting Edge), she left the cast of Songs For a New World during a rehearsal to play Deborah Gilder in the hugely popular ITV series Born and Bred. From 1990 to 1992 she played Maggie Lomax in BBCs On the Up. She also sang the theme song to Red Dwarf.
She has also had four different roles in The Bill, making her debut in the show in 1989 as a character credited as 'Bride'. Then going on to portray characters Kelly Bailey in 1990, Rowena Mynett in 1991 and Susan Dobson in 1995. Before landing the part of Floor Manager in Doctor Who she appeared in eight episodes of Picking up the Pieces in 1998 and three episodes of Peak Practice in 2000.
In 2005 she appeared as the Floor Manager in the Doctor Who episodes Bad Wolf and The Parting of the Ways and also played the lead role of Sarah Brown in Guys and Dolls opposite Ewan McGregor and Nigel Harman.
In 2016, she landed the role of the recast version of Michelle Fowler, her character didn't react very popular with the public, and when Russell departed the series in 2018, rumours speculated that Russell had been axed although Russell continues to say that this information is false.
Community content is available under
CC-BY-SA
unless otherwise noted.