Harold Legg

© BBC
Portrayed by
Leonard Fenton
First Appearance
19 February 1985
Last Appearance
15 February 2019
Cause/Reason
Died from pancreatic cancer
Duration
1985–1997, 2000, 2004, 2007, 2018–2019
Status
Deceased
Age
98
Date of Birth
18 June 1920
Date of Death
15 February 2019
Occupation
Retired doctor
Dr. Harold Legg made his first appearance on 19 February 1985. He was portrayed by Leonard Fenton. He made a guest appearance in 2007 to visit Dot. It was revealed in July 2018 that he would be returning to the show that autumn. He made his final appearance on the 15 February 2019, when he was killed off.
Background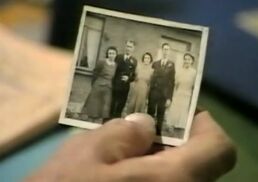 Dr Legg, the Square's Jewish Doctor, was born in London on the 18th June 1920, his father being Gregory Legg, and his mother Esther Legg. Harold's grandparents were Jewish immigrants from Europe, who lived down Legg Street and Anglicised their surname to Legg as a tribute to their street of residence. In his youth, and still later in life, he was good friends with Lou and Ethel.
During the Second World War he lived with his wife, Judith (Who was also good friends with Lou and Ethel) although she was killed while hanging out washing during an air-raid. Dr Legg went to medical school in the early 1940s where he met his wife. Dr Legg father gave him his medallion for his wedding day.
Storylines
1985-2007
Dr Legg was the local doctor when EastEnders began in 1985, appearing in Episode 1 (19th February 1985) onwards to 1989 followed by recurring appearances after that. He ran the surgery which was in Albert Square. He was a kind and caring doctor but could get stressed at times, occasionally letting things slip his mind. At one stage in 1986 he forgot to shut the surgery window during a lunch break, which led to burglars slipping in and raiding the prescription cabinet, taking some morphine, causing an investigation by the Police, led by Detective Sergeant Roy Quick.
By the 1990s his appearances became less frequent. In 1993 he hired Mandy Salter and Aidan Brosnan to do cleaning but Mandy kept stealing drugs and equipment from him. Dr Legg sacked her in December 1993. He appeared in 1994 and spoke to Richard Cole. He retired officially in 1997 aged 77, after 55 years as a GP. His replacement was Dr Fred Fonseca. Dr Legg then appeared in Episode 3379 (8 June 2007) to see Dot.
2018-2019
In October 2018, Dot visits Dr. Legg
As of 2018, Dr Legg is 98 years old. He goes to live with Dot in Albert Square in October 2018, and revealed that he has pancreatic cancer. While Dr Legg is visiting Dot, Stuart Highway is also residing there and helps around the house and talks to Dot. Dr Legg appears to be sceptical of Stuart's intentions. After Dot has gone to bed, Dr Legg tells Stuart he got him wrong and thinks he is a good person. Stuart thanks him, and pulls out a wallet from his back pocket. He tells Dr Legg that it is his wallet and that he left it in the kitchen. Dr Legg looks inside and notices his photo of his wife is gone, as Stuart walks out and says "night-night" with a grin.
First and last lines
"All we've gotta do now is to arrange for you to have a test. I'll fix an appointment at the clinic." (First line)
"The most perfect kiss ever." (Last Line)
Gallery
See also
Community content is available under
CC-BY-SA
unless otherwise noted.