EastEnders Wiki is a community created on the 18 December 2006 by the fans, for the fans, and is dedicated to housing a useful and informative database for all subject matter related to the BBC Soap EastEnders and its spinoff series E20. Our goal is to collaborate with other fans in order to build a reliable, accurate resource with as much detailed information about episodes, characters, and story elements as possible. If you are a fan of either series - or both - or if you are simply interested in them, this is the place for you! All are welcome to join in and contribute here, so long as edits are constructive, discussions are positive, and both are relevant to these series. Hope to see you around!

We are currently editing over 12,500 articles, and you can help
Please the time to read
Layout guide, Rules, To do list and Thanks.
---

Episode Count:
6414 Episodes broadcast (as of 18 January 2022)
---
NEW TO THIS SITE:*
-Radio Times Covers
-This week on EastEnders
-Period pages
-Search by Broadcast Date (Date format - 19 February 1985)
- Research Tabs

---



See list of EastEnders characters for a list of all current characters and family trees

Update Cast Change: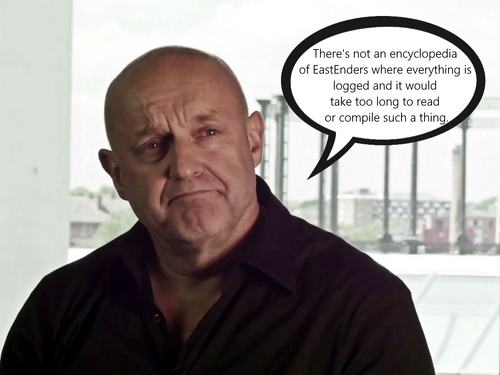 EastEnders around the World
Europe
UK (Catchup)



Republic of Ireland (Catchup)





UK Classic (Catch Up)


North America
USA



USA (Catchup)



Canada (Catchup)

South America
Falkland Islands


(via British Forces Broadcasting Service)
Australia
Australia


New Zealand
Africa
South Africa




Tristan da Cunha


(via British Forces Broadcasting Service)
---
EastEnders Wiki is a EastEnders fan site with no connection to the BBC. EastEnders is copyright © by the British Broadcasting Corporation (BBC). No copyright infringement is intended.

This week in EastEnders *
17-23 January