House of the Dragon Trailer - The Loop
Play Sound
Beale's Plaice is a chip shop owned by Ian Beale which is located at 15 Turpin Road. Ian bought the premises in 1994.
Over the years the chip shop has had various employees. Ian was forced to give up the chip shop in 2000 after Phil Mitchell made him go bankrupt.
In the year 2002, Ian Beale and his third wife Laura won back the chip shop and they moved into a flat which was located above the chip shop. Laura had an accident and fell down the stairs and died. Ian decided to move out of the flat into a bigger house. When Jane was living in Walford. Her brother Christian lived above the flat.
In 2017, Ian decided to sell the chip shop in concern of his and Jane's health. Ian decides to sell Beale's Plaice to Weyland & Co. In January 2018, Weyland & Co give back the chip shop to Ian and it reopens later that month with Masood Ahmed as the new manager.
The Green Lantern (1985-1994)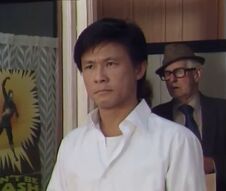 Between 1985 and 1994, the premises was used as a Chinese takeaway called 'The Green Lantern'.
The owner was first seen on 29 October 1987 when he kicked Lofty Holloway out of his shop over an argument about a pancake roll, and Lofty is arrested.
The interior of the building was not seen until late 1994 when Ian Beale bought the premises and turned it into a fish and chip shop.
Beale's Plaice (1994-Present)
Beale's Plaice opened in October 1994 with Ian running the shop with some help from his wife, Cindy. Ian began interviewing for staff on 3 November 1994, however, his first interviewee, Keith, fails to impress him, while the second one, Elaine, tries to force ideas on him. Eventually, Cindy hires Jason who was working at the fish and chip shop on Victoria Road, but Cindy offered to match his present salary plus 10%. Bianca Jackson, worked at the shop briefly in 1995 until Ian told her that he no longer needed her.
Ian's empire came crashing down around his ears and he became bankrupt. Laura bought back the chip shop business for Ian.
Ian still runs the chippie but has moved his family to the house at 55 Albert Square (his cousin Mark's old place). The flat has been taken over by the Moon clan, Nana, Alfie, Danny and Jake.
Having fallen on hard times, Sam Mitchell's taken a job at the chip shop to make ends meet.
Previous Businesses
| Business Name | Years | Type of Business |
| --- | --- | --- |
| The Green Lantern | Prior to 1988-1994 | Chinese Takeaway |
| Beale's Plaice | 1994-2017/2018-Present | Fish & Chip Shop |
| Cindy's | 1996 | Fish & Chip Shop |
Owners
Staff
Current Employees
Former Employees
Gallery
Exterior
Interior
Miscellaneous