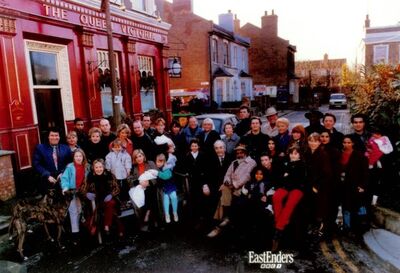 1994 was EastEnders' tenth year of production. Leonard Lewis continuing his role as executive producer until Barbara Emile took over. Lewis quit the role after the BBC controllers demanded an extra episode a week. EastEnders aired 142 episodes in 1994, with the typical week comprising two half-hour episodes on BBC1, in a time slot of 7.30 pm on Tuesdays and Thursdays, until 11 April 1994, when a third episode was added on Mondays, in a time slot of 8.00 pm. 
Main characters
Ranking
Character
Played by
Duration
Number of Episodes
Running total
Previous year's ranking
Episodes
Gallery
Community content is available under
CC-BY-SA
unless otherwise noted.