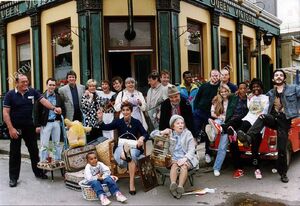 1991 was EastEnders' sixth year.
Main characters
Production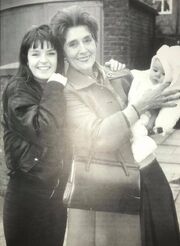 There were intense storylines for many of the
EastEnders
characters in
1991
, with many of them experiencing unprecedented stress and heartache. The year began with some aspects becoming involved in the affairs of relative strangers.
Pete
became concerned about the home background of little
Jason
, the boy who started to hang around the fruit and veg stall and help Pete out.
When Pete discovered that the lad had been beaten by his father, he had no choice but to inform the Social Services. But when he then tried to find out what had happened, he met Jason's mother who accused him of interfering in things that didn't concern him and of being a pervert! Pete was distraught that his moral actions might have left the boy worse off than before. After a few years of hectic comings and goings of regulars, 1991 saw a slight decrease in the speed of these arrivals and departures. Most of the new characters who appeared during the year were temporary, seen only for the duration of their story. In some ways, the more significant movements occurred behind the scenes, because executive producer Michael Ferguson decided to move on towards the end of the year.
At the same time both his producers, Corinne Hollingworth and Pat Sandys also decided to leave, so by the end of the year, there was a complete change in the people responsible for making the programme. On-screen, however, the show introduced two brand new regular characters throughout the year. The first being Rachel Kominski, the latest in a long line of favourite characters.
Rachel was played by Jacquetta May with a good deal of warmth and humour; she managed to transcend the slightly cliched, middle-class college lecturer that she could easily have been. With her close involvement with both Mark and Michelle Fowler, Rachel managed to integrate into the life of the Square slightly better than some of the other middle-class characters in the programme's history. In October the second regular of the year to join was Steve Elliot, the young black cook with ambitions to see the world. First seen working as a chef in the Pizza Parlour, which by now had opened up in the premises once occupied by Den's Strokes wine bar, Steve was quickly offered a job at Ian Beale's Meal Machine.
On the debit side in this year there was the off-screen death of sad old Charlie Cotton. Diane Butcher decided to abandon her art college course and begin a new life in France. The final exit of the year happened in September with the brutal and unexpected murder of Eddie Royle.
Viewing figures
Duff Duff Count
Episodes
Community content is available under
CC-BY-SA
unless otherwise noted.