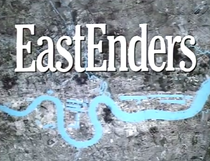 1985 was EastEnders' first year. The series premiered on 19 February, created by Julia Smith and Tony Holland.
Main Characters
Recurring and Guest Characters
Production and Storylines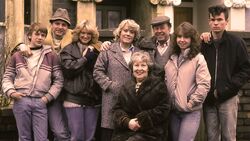 The Fowlers
When EastEnders began on 19 February 1985, there was no doubt in anyone's mind as to who the starts of the show were. The Fowler family were the essence of cockney kinship, a big, close-knit family with a long history, complete with a dominant matriarch in the shape of stubborn, opinionated Lou. As the year went on, Lou's position as Queen Bee in the Beale-Fowler families - and thus in Albert Square - was challenged by not one but two unexpected pregnancies from within her own family. 
Pauline, the eternally downtrodden daughter, started the ball rolling when she announced, in the very first episode, that she was expecting a baby after a gap of 15 years since the birth of her daughter, Michelle. Lou was horrified at first, but despite all her bluster she was secretly pleased - this would be another little Fowler to boss around - and was easily won over by a cheap holiday in Clacton with Michelle.
But that was just the beginning of the Fowler family's problems. By the summer, it wasn't just Pauline who was pregnant and struggling to make ends meet; the increasingly depressed and irritable Michelle revealed that she too was expecting a child, although she refused to name the father. Despite intense speculation throughout Albert Square, and some heavy sessions with her father in his shed at the allotments. Michelle stuck to her guns, ignored her family's wishes (they were all for an abortion) and decided to keep the baby and finish school. 
Gossip about Michelle's pregnancy quickly became a game that any number could play, and seldom were two or more Walfordians gathered together in the latter part of 1985 when talk did not turn to the identity of the mystery father. They had to keep guessing for a long time - but we knew that it was none other than Den Watts, the father of Michelle's best friend Sharon, to whom she had turned for a little bit of paternal sympathy during a difficult time over the summer, and from whom she got a little more than she'd bargained for. Den agreed to support Michelle and the baby, and to keep his paternity a deep, dark secret - after all, he had troubles of his own. 
Despite it all, Michelle was a beacon of purity compared with Pauline and Arthur's firstborn Mark, who started out as a semi-criminal sidekick of Nick Cotton's, constantly involved in dodgy deals and even dodgier politics. On the day Nick was arrested for the murder of Reg Cox, Mark fled Walford - did he know more than was good for him? Or could he simply not stand another day under the same roof as bossy Lou, feckless Arthur, nagging Pauline and whingeing Michelle? Whatever his reasons, Mark lay low until finally contacting his family through a runaways' agency. The end of the year saw Pauline and Arthur racing down to Southend in pursuit of their long-lost son and heir who was by then working on a go-cart track and living with an older woman called Ingrid. 
Lou, who began the year as the undisputed boss of the family, ended it as a shadow of her former self. Rapidly deteriorating health made her more dependant on her children than she liked, and, during Pauline's pregnancy, she was obliged to move in with her son Pete and his wife Kathy. Less able to rule the roost than she once was, Lou exercised power in the only way she knew how - by causing trouble. 
Despite it all, there was one piece of good news for the beleaguered Fowlers: on 30 July Pauline gave birth to a son, Martin Albert.
EVERYONE TALKED ABOUT...
to be added
Viewing figures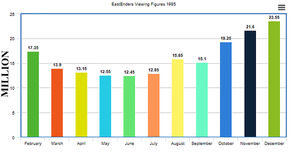 Anticipation and rumor grew in equal measure until the first transmission at 7 p.m. on 19 February 1985. Both Holland and Smith could not watch; they both instead returned to the place where it all began, Albertine's Wine Bar on Wood Lane. The next day, viewing figures were confirmed at 17 million. The reviews were largely favorable, although, after three weeks on air, BBC1's early evening share had returned to the pre-EastEnders figure of seven million, though EastEnders then climbed to highs of up to 23 million later on in the year. Following the launch, both group discussions and telephone surveys were conducted to test audience reaction to early episodes. Detailed reactions were taken after six months and since then regular monitoring was conducted.
Episodes
Who lives where
Albert Square
Walford Towers